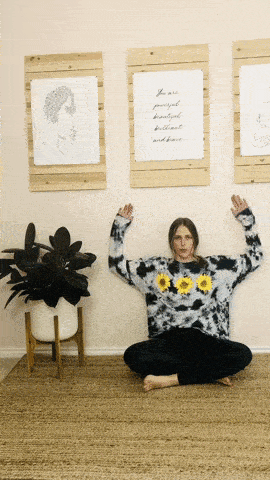 Add these postnatal back pain exercises into your routine to help relieve tension and improve mobility and comfort.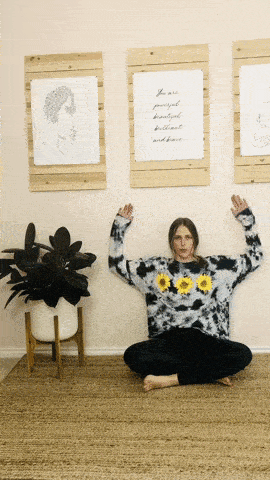 Shoulder Mobility: Wall Angels
Sit comfortably with your back against a wall
Lift your arms, elbows bent to 90 degrees, out to both sides
Exhale as you slowly start to glide your arms up on the wall
Only extend your arms as far as you can without your rib cage lifting.
As soon as you reach the end of your range of motion, inhale and slowly lower back down
Repeat for 5 reps
The most effective postnatal back pain exercises release and relax muscles that are tight and sore. Mums' constant lifting, holding and feeding in hunched positions is not kind to our backs. Give yourself some time out and allow your muscles to lengthen and release with these gentle moves.
Find more here on postpartum back pain and what you can do about it.
Upper Back Mobility for postnatal back pain
Lie on the floor on your side with both arms extended straight out, stacked with palms together at shoulder height.
Straighten your bottom leg and keep your top leg bent at a 90 degree angle (if needed place a block or pillow under bent knee)
Exhale and slowly lift your top arm and rotate it away from you, opening up your chest to the ceiling and rotating until you can rest that lifted arm to the other side if possible (if not just rotate and extend as far as you can comfortably)
Inhale and hold for 3 seconds
Exhale as you slowly rotate to bring your arm back to the starting position
Repeat on one side for 5 reps. Switch and to other side for another 5 reps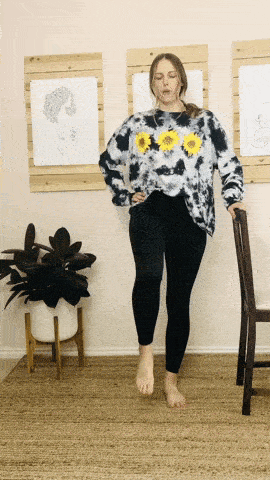 Hip Mobility postnatal back pain exercise
Stand comfortably with feet about shoulder width apart
If needed hold a chair or place hand on wall for balance support
Inhale as you slowly lift one knee up towards the chest
Exhale as you open that knee out to the side and circle it around and lower back to the starting position.
Repeat on one side for 5 reps. Switch and to other side for