Answers to MUTU System Programme frequently asked questions below
If you're pregnant, a brand new mom, or a not-new Mom who wants to feel more confident in her body… YES, it will.
For your reassurance: Medical evidence and customer feedback for MUTU include hospital trials, international medical approval and a 900-participant clinical survey with incredible results, along with thousands of 5-star customer reviews.
Results from clinical trials with a University Hospital during COVID were off the scale, reported across press and on BBC TV.
Rated 'Excellent' and 5 stars by thousands of customers worldwide on Trustpilot, Google and Facebook.
The MUTU core and pelvic floor program underwent exhaustive due diligence and was approved in 2020 by NHS Digital in the UK for inclusion in the NHS apps directory.
A clinical survey of over 900 US customers in 2018 showed:

94% of women with diastasis recti (abdominal separation) reported an improvement
97% who were unable to successfully locate and engage their pelvic floor muscles, could so so after 3 weeks of MUTU
92% of women who experienced bladder symptoms including urinary leakage reported an improvement
88% of women who experienced symptoms of pelvic organ prolapse reported an improvement
94% of women felt an improvement in how they felt about their body and what it is able to do
89% of women who experienced pain or discomfort during/after intercourse reported an improvement.
No other program or solution comes close. We've got you!
Yes, MUTU System is a web app. That means it works great on your phone or tablet… or on your laptop, smart TV or any other streaming device! Use MUTU however works best for you.
You don't need to download anything extra from the app store – simply purchase your membership here and then follow the instructions to add the MUTU Mamas website to your device's home screen.
Yes. MUTU is recommended by OB-GYN's, Doctors, Midwives and Physical Therapists as safe throughout your motherhood journey. It is safe to exercise during pregnancy, and there are proven and meaningful benefits.
The most important core exercises you can do in pregnancy are the foundational core and pelvic floor exercises found in MUTU Core. These highly effective breathing strategies guide you to tune in and intentionally connect with your deep core and pelvic floor.
These specific core exercises during pregnancy will help establish familiarity and connection with what it feels like to engage your core and your pelvic floor correctly. This will serve you during labor, and will help post-birth (whether you have a c-section or vaginal delivery) when abdominal muscles and/or pelvic floor muscles may be tender, numb, traumatised or lacking in sensitivity.
The American College of Obstetricians and Gynecologists (ACOG) and Royal College of Obstetricians and Gynecologists (RCOG) encourage all pregnant women (with clearance from their Doctor and no contraindications) to exercise moderately for around 20 minutes every day. This level of exercise offers very meaningful health benefits and reduces the risk of pregnancy complications. This includes women who didn't exercise before they were pregnant.
You can start MUTU Core™️ as soon as you feel able. MUTU Core is specifically designed to be safe to start even in the early days after delivery (including c-section), and a daily walk will aid circulation and healing.
You can start to progress with the MUTU Intensives™️ 6 weeks after vaginal birth, or 10 weeks post c-section or complications, with your Doctor's consent. You'll be guided within the program to safely progress to the MUTU Intensive™️ workouts in line with your recovery.
As with any exercise program during pregnancy or shortly after childbirth, you should consult with a medical professional to be sure exercising is safe for you.

MUTU is safe and recommended for you if you are coping with hernia or prolapse symptoms. Clear modifications and guidance are given throughout the program.
MUTU is clinically proven to improve prolapse symptoms.
An independent clinical survey of over 900 customers in 2018 showed that 88% of women suffering from Pelvic Organ Prolapse reported an improvement after following MUTU. Clinical trials in 2020 showed that an incredible 100% of women suffering from prolapse symptoms saw improvement within 3 weeks of using MUTU.
It's never too late to make a difference – to get a stronger lower back, a more optimally functioning core and pelvic floor, and a flatter stomach. It doesn't matter how long ago you had your last baby – MUTU can help. We've got you, wherever you are on your motherhood journey.

MUTU is specifically designed to fit into a busy mom's schedule.
MUTU Core workouts take just 12 minutes every day.
MUTU Intensive workouts take around 22 minutes (3 times a week).
You should start to feel the difference after 4 modules and really start to see changes within 6-8 modules. The more mindfully and consistently you follow the program, the quicker and more noticeable your results will be!

A resistance band, a resistance band loop and a small inflatable ball. A strong cotton strap is also helpful for those all-important stretches at the end of your workout.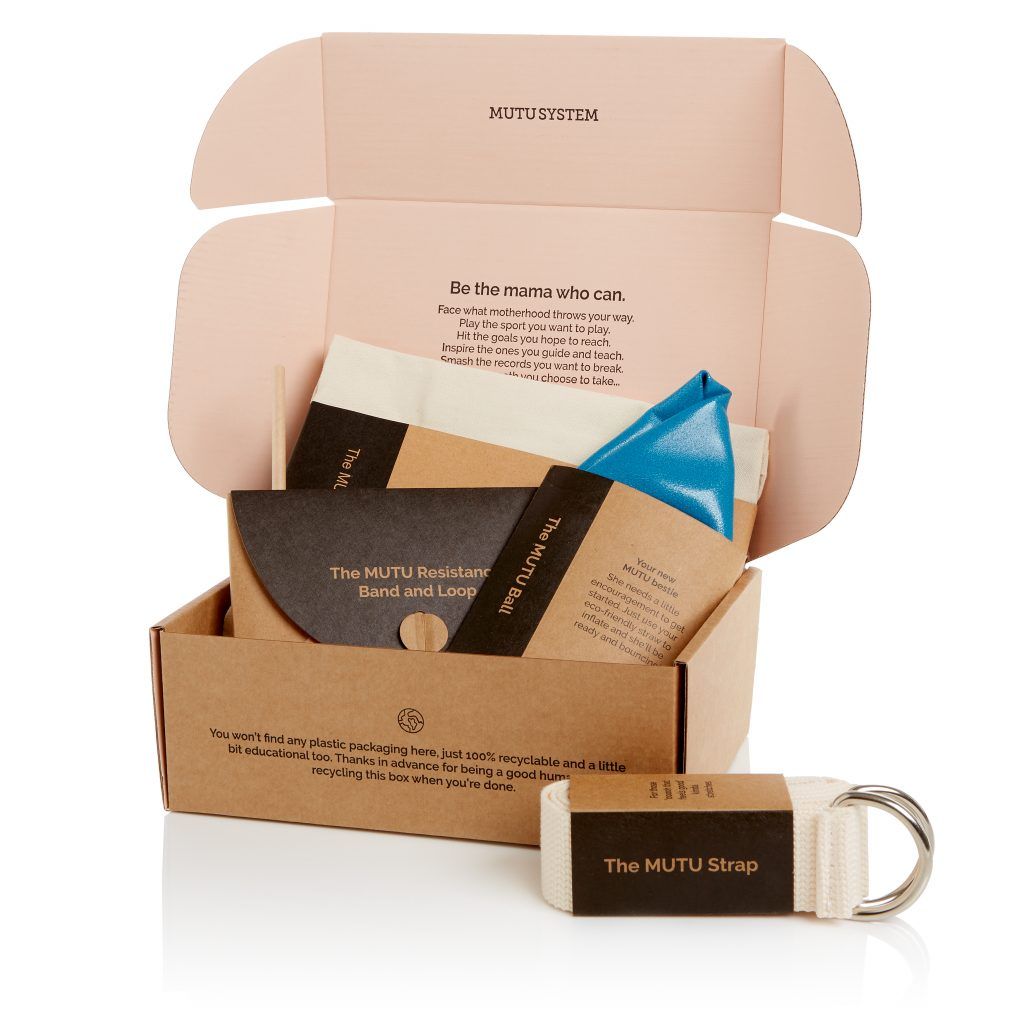 To make life easy, we've put together a kit bag containing all of these items - BUY YOURS HERE
You'll also need a mat or somewhere comfortable to lie down for some of the exercises. Some pillows or rolled-up blankets would also come in handy to get comfy in certain moves/stretches.
You get… everything you need to gain confidence in how your body looks, works and feels, wherever you are in your motherhood journey.
Join now and log in for full access to:
24/7 access to your exclusive, secure MUTU Mamas Community, where a real-life dedicated MUTU Expert (no Bots here!) is on hand to answer all your questions
MUTU Core workout videos – fully guided and instructed real-time videos of core and pelvic floor rehabilitation techniques
MUTU Intensive workout videos – clearly instructed real-time videos of no-impact, but high intensity, DR-safe, efficient workouts to strengthen, shape and tone
Posture and biomechanics video instruction
Motivational digital online progress tracker and journal
Text or email alerts (you choose!) to keep you on track
Unrivalled, personal support and 'Digging Deeper' guidance if you need extra help
Regular bonus workouts
Pregnancy and Prolapse modification instruction
MUTU Food guide – healthy and family-friendly
Additional medical resources