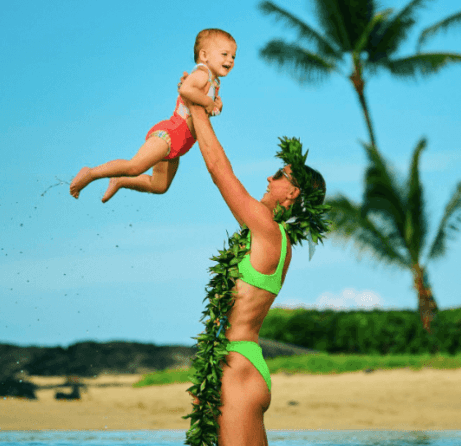 The first American woman to win the grueling triathlon since 1996 and the competition's first new mum to stand on the podium.
This triathlon season has seen some incredible athletes do incredible things. From Lucy Barclay-Charles returning to the podium after an injury which almost took her out of the sport entirely to the first athlete with Downs Syndrome crossing the IRONMAN finish line, the 2022 championship race season has been incredible to watch.
Joining the ranking of notable firsts, this year saw multiple postpartum pro-athlete mums crossing the finish line in remarkable form. Leading that pack is Chelsea Sodaro, who won the IRONMAN Kona just eighteen months after giving birth.
From champion, to postpartum champion
For a little background, IRONMAN races are 140.6 miles (226.2 kilometers) of combined swimming, biking, and running. Considered to be one of the world's most grueling endurance sports, the race on the Hawaiian island of Kona is known as one of the toughest and most prestigious courses to win. Sodaro nabbed the gold on this, her first ever attempt at Kona. That hasn't been done since Britain's Chrissie Wellington won Kona in 2007. This win also made Sodaro the first American to win at Kona since 1996.
For the USA national champion runner, this was a major win on all fronts. "This is the culmination of things being right in my life and having perspective. This is freakin' incredible, but the greatest gift at the end of the finish line is my little 18-month-old."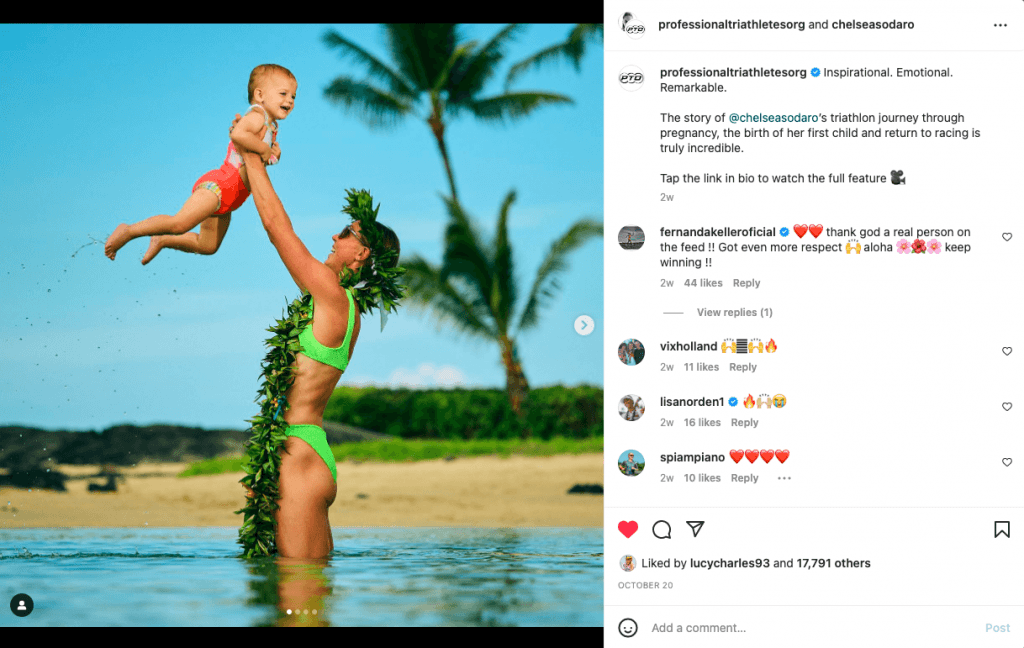 IRONMUMs
She's not the only mum returning to the IRONMAN championship circuit this year, either. Racers Jocelyn McCauley and Sarah Piampiano each gave birth within weeks of Sodaro and have been back on the triathlon world championship scene since. All three are US Olympic Team hopefuls, and all are in their mid-thirties or early forties. All three have had Top 10 finishes or wins in major races this year. Each of these women are showing the world that you don't have to hang up your gear after thirty-five or after baby.
That's hardly the messaging most women see about postpartum bodies. Usually a toss up between "bouncing back" based on looks or tales of feeling broken, these stories of women focused on postpartum body function is inspirational.
"We see women come back stronger," Sodaro says of women athletes who become mothers. She then is quick to correct herself in saying that it's more of a reinvention — stronger than ever, improved, not like returning after an injury. Pregnancy, birth, and parenthood offer athletes a way to find new strengths within themselves, not just obstacles to overcome.
Even for the strong, postpartum isn't a cake walk
Candidly talking about how she has to squeeze in training in between breastfeeding baby Skye. After seeking support from a lactation consultant, it was suggested to Sodaro that she shorten the windows in between feeds. That obviously cut into her training sessions. This is a major factor when considering that she's an endurance athlete. The Kona IRONMAN consists of 140.6 miles of swimming, cycling, and running.
Professional athletes like many other working mums who choose to breastfeed have to battle the pull on their time between using their bodies to feed and needing their bodies to be physically somewhere else. "She is the highlight of my world, but it's really hard to navigate a professional career and being a mom at the same time." Sodaro said of her daughter Skye.
Sodaro struggled with postpartum anxiety and depression (PMADs), especially as she faced the likelihood that she would have to stop breastfeeding. "I'm trying to reconcile with giving up breastfeeding, which is really hard and sad but…the most important thing is that she's healthy, but I'm trying to suss out how this factors into me being able to start doing my job again."
Her postpartum anxiety and depression felt "crippling" while competing in the Collins Cup. She had traveled there with her few months old daughter by herself. New mums often find themselves facing postpartum mood disruptions, even under normal circumstances. Postpartum fitness and sport is a major way to reduce these symptoms, but they can emerge in anyone regardless. For professional athletes like Sodaro, fitness is also her profession and the stressors of postpartum recovery and doing well at work collided. The baby blues can even get in the way of a runner's high.
It took an Olympic village to win Kona
Though IRONMAN competitions are solo sports events, Sodaro is quick to point out that her accomplishment, especially so soon after giving birth, was a group effort. Her husband is a firefighter with a grueling schedule and her coach is all the way in New Zealand, making training coordination tricky. She enlisted the help of her parents and other caretakers as much as she could, too, to fit in the over twenty hours of training a week these professional athletes require to be in race shape.
On her husband, Steve, "He's the reason I'm still in this sport. He's sacrificed so much for my career. I tried to quit triathlon a number of times this past 18 months, but he wouldn't let me and he just keep on believing in me."
Her family is both what helps make Sodaro so inspirational and what gives her a sense of motivation. She told Traithlete.com, "I want [my daughter] to see what it looks like to pour yourself into your dreams, and that being passionate about your career and being a good mom are not mutually exclusive."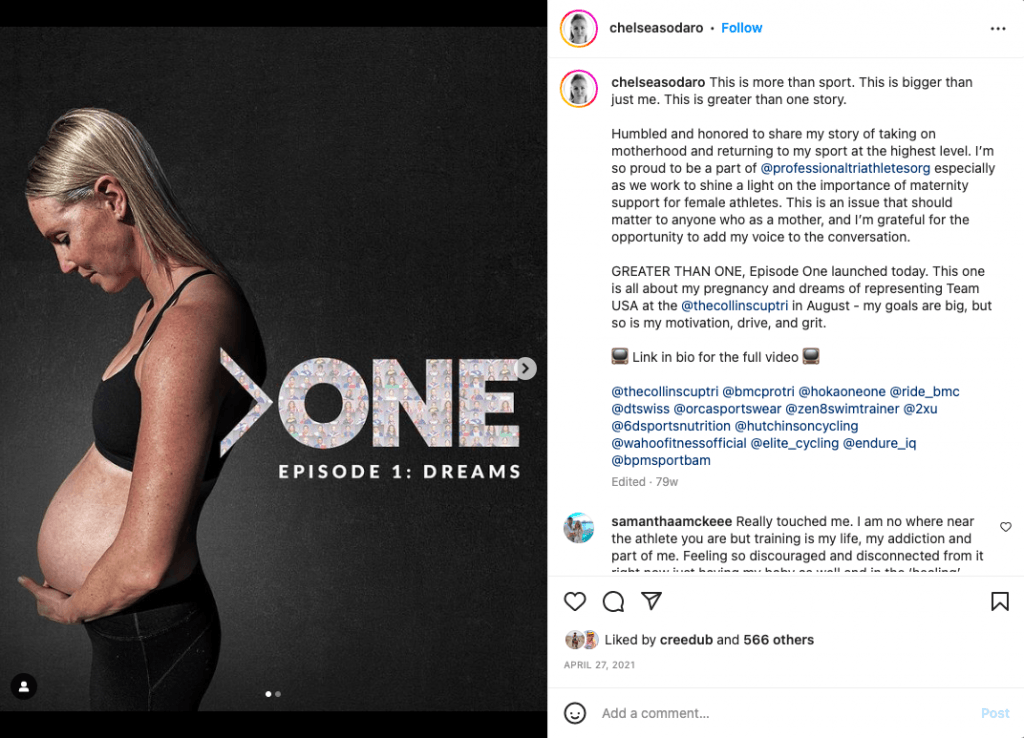 Athletic organizations finally stepping it up for women
Sodaro also benefits from a recent policy change within the Professional Triathletes Organisation (PTO) — paid maternity leave. Launched in 2020, the PTO maternity policy is a fifteen-month long paid pregnancy and parenting leave available to professional triathletes. The PTO also offers six months Compassion Leave for athletes who have a miscarriage. Partners and adoptive parent athletes can also apply for leave coverage up to four months.
Rachel Joyce, Co-President of the PTO, says of the new policy, "[It] will ensure that in the future women PTO Professionals who seek to start families can do so with financial support and additionally maintain their PTO World Ranking."
Luckily, they're not the only professional athletic organization introducing maternity leave policies. Athletes Unlimited, which employs over 150 professional female athletes introduced a maternity leave policy in 2021. It not only covers leave for pregnancy, but for women who are adopting or supporting their partners through childbirth, too. The Women's National Basketball Association (WMBA) in a bargaining agreement not only won higher salaries, but better maternity coverage. No longer forced to take a pay cut of more than half their salaries, WNBA players will have better pay, a childcare stipend, and guaranteed housing to get back out on the court.
Fit mums in the spotlight
These policies are significant in many ways. There is major international coverage of the shift in sporting policies and maternity, for one. Major stars like Serena Williams and Allyson Felix speaking candidly about how their organizations and sponsors have handled their pregnancy and postpartum choices has made breaking news. They are also two Black mothers who had life-threatening complications. Their stories have helped highlight the fact that even the strongest, fittest, and spotlighted Black women often have poorer birth outcomes due to systemic bias.
Several female professional athletes have been speaking out about the pressures to play or race through pregnancy for fear they'd lose their endorsements or clout. Though each of them remains passionate about doing the physical activities they love (and is also their career), they shouldn't have to fight to stay safe or keep their jobs. Sadly, this is a place many new parents find themselves in, especially in the United States which has no federally guaranteed maternity leave pay.
Sodaro's win is having a similar impact on the triathlon community. Finishing the race, she made a beeline directly to her husband and daughter for a giant hug. "We shouldn't have to choose between being world class athletes and being mums. We can do it both, we just need some support."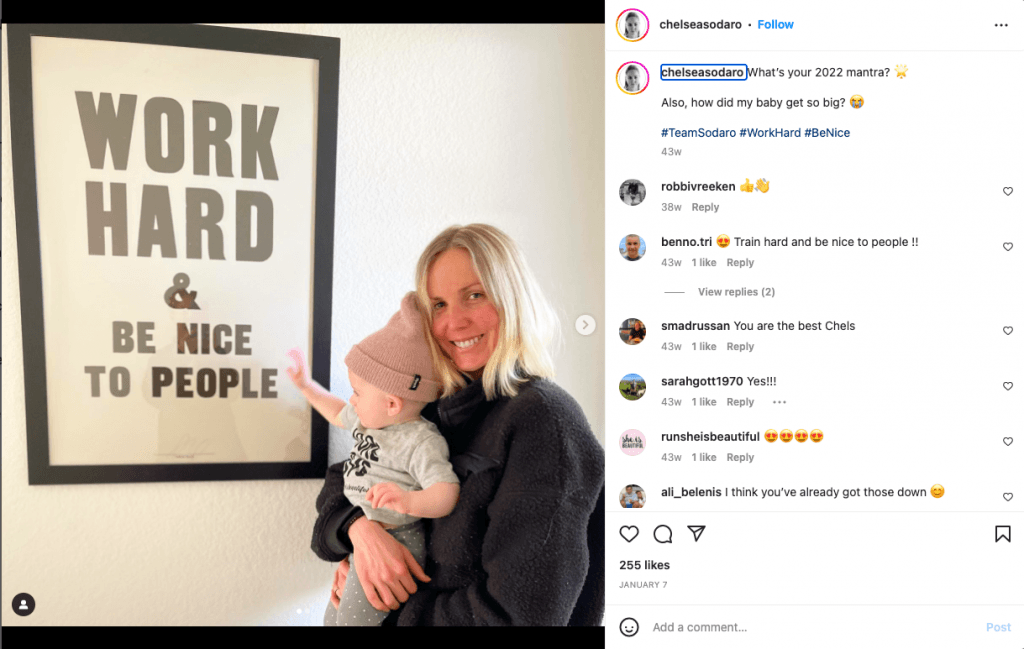 How can you channel your inner Sodaro in postpartum
While we might not all be able to conquer 140.6 miles (or 226.3 kilometers) before or after having a baby, there's a lot we can all learn from Sodaro, Felix, Piampiano and other champion mums.
Move in the moment
While the MUTU System is definitely not Sodaros' 20+ hour a week triathlon training, it's based on a similar basis of functional strength over returning to a sleek body. Starting slowly, safely, and confidently to return to doing what your body can do instead of what it can look like is a crucial first step. Think about building up movement that feels right in the moment.
Unpack
Those old messages of women's bodies not being good enough or needing to give up after becoming a mum are OVER. Culturally and individually we need to unpack those damaging (and wrong) ideas about birthing bodies. Sodaro's teammates, coaches, and family talk about her mindset being what got her through injuries and got her to first place at Kona.
Trust
Start from a place of acceptance and trust with your body. Hating your post baby body or seeing it as broken can make returning to working out seem like a sprint to an ideal image vs the reality marathon of fitness. Every body has its own process, even a professional athlete's. Think about how Sodaro said that it's not about "bouncing back," but returning with new strengths and new goals. Trust that you'll get there with patience, intention, and commitment. You're not broken!
Unite
Doing this along with the evidence-based know-how from MUTU founder Wendy Powell and the MUTU Mamas community can help you stay on track with peers and knowledgeable educators (virtually) by your side. Not everyone has a full gym in their garage, a nanny, months off work, etc. to get back into working out easily. It's important to talk with your postpartum support crew as early and often as you can to ask to have some time to fit in fitness post-baby. If grandma comes over, can she sit with the baby for 20 minutes so you can eat and stretch? Can your partner help with sleepy naptime soothing so you can take a 10 minute walk? Unite your family and friends in helping you move with purpose.
To join this amazing group of MUTU mamas, click here.