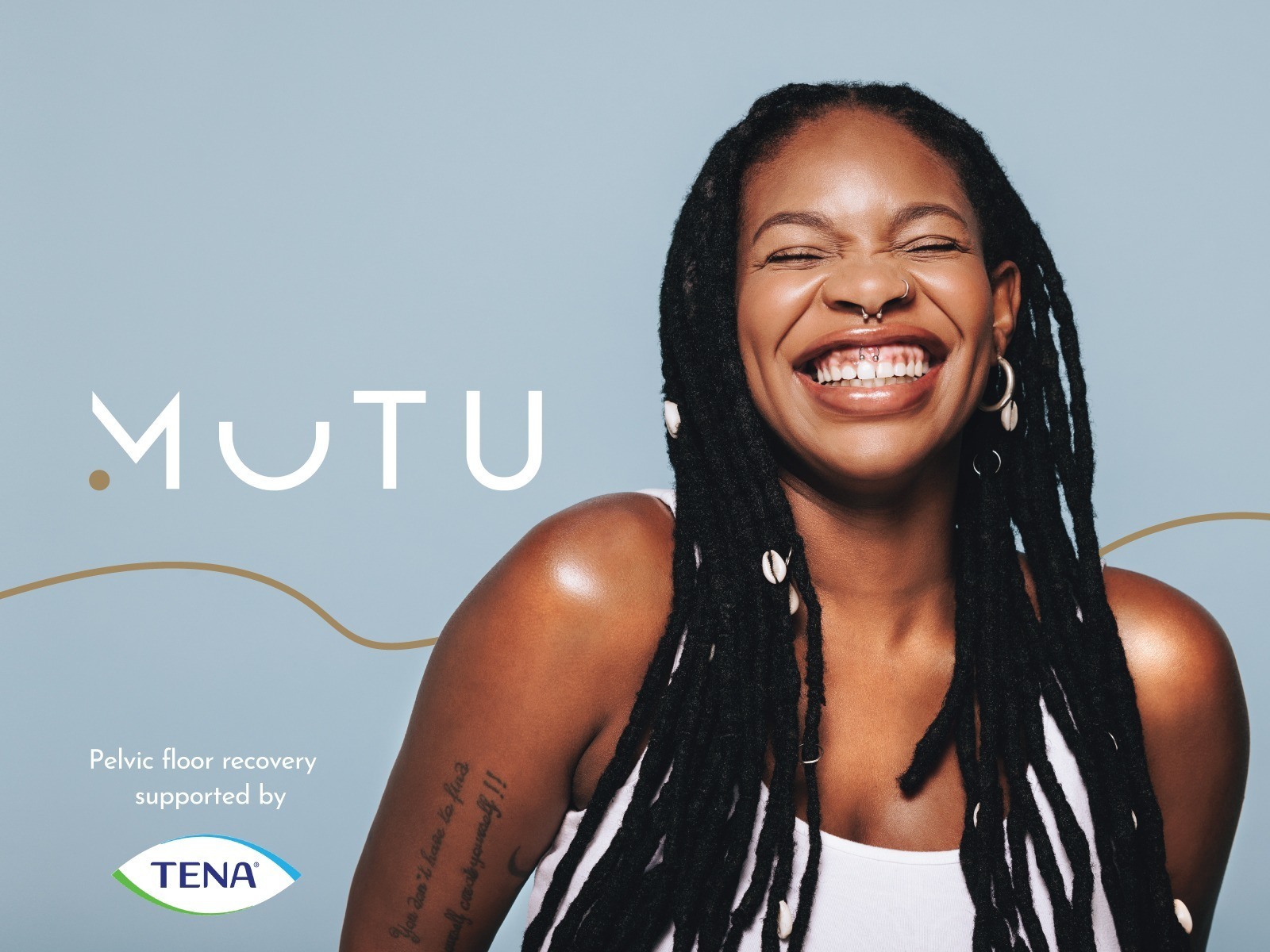 You've heard of TENA. The leading global brand in incontinence pads, care and management products, enabling millions of women to live their lives with more dignity and comfort.
And we are MUTU System. The pioneering, body-positive, NHS recognised pelvic health exercise platform for all mothers. MUTU is proven to treat postpartum (even a very long time postpartum!) incontinence. Our 12 Module evidence-based programme is recommended by women's health Physiotherapists, approved by NHS Digital, and shown in trials to improve pelvic floor and core symptoms.
The holistic app and expert-led 'MUTU Mama' community of more than 100,000 women offers improved confidence in how their body looks, works and feels.
We want to do more than just cope with incontinence
MUTU knows – along with the Royal College of Nursing, the POGP Pelvic Obstetric and Gynaecological Physiotherapy Association, and every professional working in pelvic health physiotherapy and care – that whilst postpartum incontinence is very common, it is usually treatable.
We can treat incontinence and improve symptoms, empowering women to regain their confidence, their self-esteem, and their lives.
TENA incontinence pads let you get on with your life, but of course, they won't treat pelvic floor dysfunction, incontinence or bladder leaks. Pads for short-term management have a place in a holistic solution, offering dignity and comfort. Meanwhile, the right exercises and techniques work to treat the problem.
70% of the women who join MUTU are dealing with urinary incontinence when they start the programme. They've come to the right place.
But right now, today, they need help managing a condition which limits their lives and makes them feel uncomfortable and embarrassed.
TENA is the leader in managing incontinence. MUTU treats it.
Together we can fully support women on their journey of recovery, healing, and reclaimed strength and confidence. No taboos, no shame, just informed, evidence-based solutions
The MUTU / TENA partnership
"We have always been a brand for women of all ages. Through this new partnership we can educate mums about incontinence and their pelvic floor, by providing the support they need on their journey. From managing leaks, to recovering their pelvic floor health, and ultimately to regaining their confidence".

Meta Redstedt, Global Master Brand & Communications Director for TENA
Both companies are committed to improving dignity and the quality of people's lives. Essity (the company that owns TENA) has a mission to break down barriers and taboos to wellbeing. It's a perfect fit.
There's lots more to come on this partnership, but meanwhile, let us know in the comments what you think, what you'd like from us, or what you'd like to know!
Does TENA want women to not need their products? Really?
Yes, they really do. The TENA team were asked – 'If you treat postpartum incontinence, surely lots of people won't need your products anymore?'. And their answer, in all integrity, is 'Good!'
TENA is a huge, global brand. It provides an invaluable and important service to millions of people, as well as to hospitals and care settings. TENA provides dignity and comfort to people of all ages, dealing with all levels and types of incontinence. That need is not going away.
But TENA incontinence pads also provide an effective and short-term solution to women at all stages of motherhood and perimenopause, who fully intend to fix the problem.
They simply need something to help them manage and live their lives, while they do.
We want to inform and validate women to buy the right product for their situation without shame or confusion. At the same time, MUTU empowers with guidance and strategies that mean they won't need those products for very long!