Ready for my Summer Guide to barefoot shoes?
At MUTU System we support the concept that natural walking alignment benefits your pelvic floor and core function. Yup. The shoes on your feet, and how you walk, stand and move, affect your whole body. More on how biomechanics and alignment affect your pelvic floor here.
What are 'barefoot shoes'?
The key characteristics of a barefoot shoe (also referred to as 'minimal shoes') are that it is zero drop (no raised heel), has a wide toebox (room for your toes to wiggle and spread) or no toebox at all, and that the sole is flexible. The idea is that the shoes allow your feet to move and function naturally as you move, as if you were actually barefoot, but with some protection.
Are flip flops good summer barefoot shoes?
Summer shoes are more open and breathable than colder weather footwear, so finding great summer barefoot shoes has lots of choice. (Go here if it's Winter barefoot shoes and boots you're looking for).
But not all open, thin soled summer shoes are good for your walking posture. Flip flops are minimal for sure. But because they have no uppers or straps to hold them on, your toes have to grip the whole time. This constant gripping and tension can cause 'hammer toes' as well as other foot and joint problems. More on flip flops and how they affect your feet from Alignment-Guru Katy Bowman here.
Our favorite summer barefoot shoe brands
Xero Shoes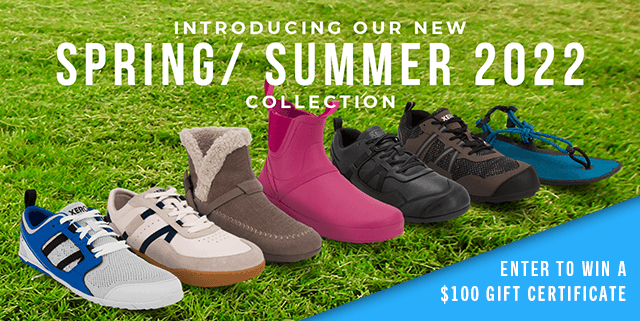 I got sent a pair of Xero sandals about 5 years ago, similar to the current Z-Trek. They are still my go to, my all time favourite summer barefoot shoes. I suffer with some arthritis in my toe joints so flip flops are definitely out for me. Cute, but the gripping just hurts. These Xero sandals hold my foot in place without scrunching my toes, with straps you literally don't feel on our feet. Like magic, invisible shoes…
I have 2 energetic dogs and live near the coast, so I walk many miles, on rough tracks and roads. These shoes have never caused a blister or a problem. There's cute flat casual shoes like the Phoenix Knit, there's running shoes, hikers… check out the range!
Vivobarefoot
Our summer barefoot shoes guide couldn't not include Vivo… go grab a discount with our exclusive code MUTUSYSTEMS10
For more summer barefoot shoe inspiration…
There's a ton more cute brands for cute summer barefoot shoes. Try Shamma Sandals, Earth Runners and Unshoes.
Check out AnyasReviews too (I especially love her 'Wear this not that' series for substitutes for your favourite styles). You can follow AnyasReviews on Instagram for barefoot inspiration and intel. Here's to happier summer feet!