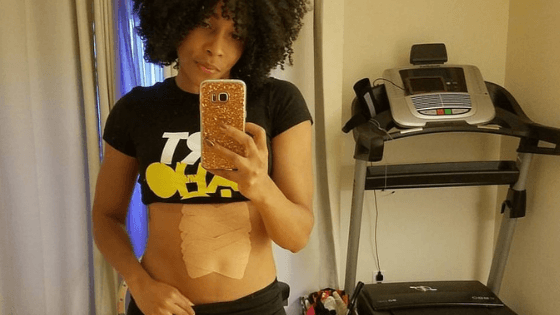 Please meet Tatiana! "Above all else, I am the mother of a spirited preschooler. I am also a certified health coach and personal trainer. I hold an MBA and my experience working in corporate America and as a military spouse help me relate to clients. My clients are everyday women, and I specialize in prenatal and postpartum wellness.
I added MUTU System to my personal training regime at 4 years postpartum as a way to strengthen my core muscles sand lift more at the gym.
Prior to being diagnosed with diastasis recti over a year postpartum, I had pain in my side and imbalance during certain exercises.  Upon evaluation by my chiropractor, I realized my pelvis was in fact tilted. Starting my diastasis recti recovery story was very emotional and embarrassing for me.
I had competed in multiple bodybuilding competitions and had no idea I had DR. I was an athlete and health coach, but I somehow missed this diagnosis. The most important part of my diastasis recti recovery story was realizing I wasn't broken. I am not broken.
My own journey led to wanting to learn more and dig into as much information as I could. So I began reading whatever I could find and speaking with trusted health practitioners. My knowledge has grown and my strength has increased. By addressing my diastasis I took my training to the next level.
I honestly can say the MUTU System program lived up to its reputation! As a coach myself, I am very picky about the programs I use and promote.
The program is well laid out and easy to fit in into a busy schedule. That is key for me and my clients and for an effective diastasis recti recovery story outcome.


MUTU has increased my professional knowledge base, which allows me to better support my clients and the moms in my sphere.
Personally MUTU has saved me so much time in my personal training routine. I am stronger and more confident in my body and in the gym. Your pelvic and abdominal health must be a priority. You are worth 15 minutes a day for 12 weeks!"